The Run
I arrived a few blocks from the start about 25 minutes before my 6:05 start time. After I dropped my bag off I realized I had the times wrong and my start was really a half hour later. I decided to forget about that as well and leave two waves ahead of mine.
<![if !vml]>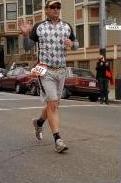 <![endif]>
My plan was to settle into good habits in the first couple miles and then stick with those. That worked out pretty good.
<![if !vml]>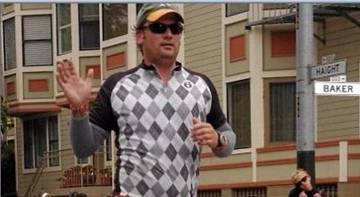 <![endif]>
I think that woman is actually sleeping on that pole.
One thing us full people all noticed was how whiny the half people were and how there were only people shouting encouragement at the half people. At one point, I think it was around mile 18 a guy yelled Way to go halfers! You're past halfway! And I turned to him and said "I think the Full folks are technically past halfway as well". He just kinda stared at me, no smile or anything.
<![if !vml]>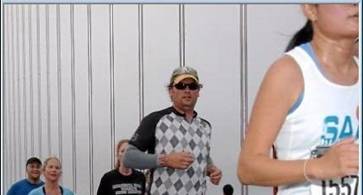 <![endif]>
I am so glad I decided last minute to keep those arm warmers with me on the run. It was so cold on the Golden Gate bridge that if I didn't have them I would have had gosh darn less fun.
<![if !vml]>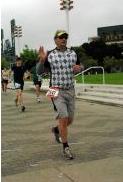 <![endif]>
About two or three miles from the ball park I realized I did not have to concentrate on my running form any more as it was the only way my body could continue to move forward.
The Finish
<![if !vml]>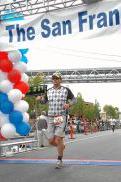 <![endif]>
Finishing is great!