The Swim
Three things about this swim.
First, itís normal to play water polo for the first few hundred yards and then split up. Wave 3 of Vineman this year took that almost to the turn around.
Second, at the turn around, I saw a handful of guys stand up and walk a few hundred yards. Should that be a DQ?
Third, training.
As I was coming down the back stretch, I realized that this was only the fourth time Iíd swam the whole summer. Only one of those were practice, the other two were Wildflower and Alcatraz.
So I thought, ďI should practice swimming.Ē
So I started practicing my stroke and noticed how I pulled away from a guy I had been swimming alongside of for a couple hundred yards.
I guess that means practice is good?
†
The Bike
<![if !vml]>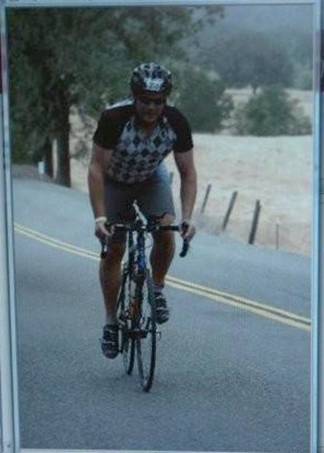 <![endif]>
The first five miles of the bike felt great.
<![if !vml]>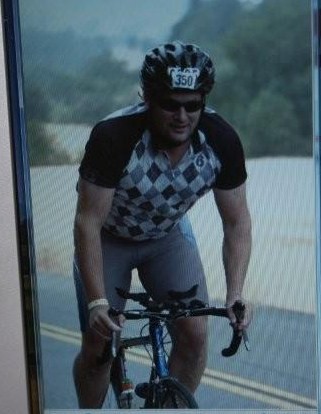 <![endif]>
And then the left side of my lower back where it connects to the glute tightened and started to hurt, which is why Iím standing in the above photos.
About mile 49 I took my left foot out of the cleat to shake it and when I went to put it back in, I realized it was not positioned the same as the right. If there werenít only 7 miles to go, I would have gotten off and re-adjusted the cleat right there.
Later that week when I checked it out, the cleat was back about 2.5mm and twisted slightly to the left. Iím guessing that happened while running on the rocks in transition as Iíve had those shoes for 2-3 years and theyíve done centuries without this kind of issue.
The Run
I was worried about the run with the back pain, and declined my clean pair of socks. I thought if I stopped and sat down my back would seize and so I kept moving.
That was my only mistake as I had to stop and mile four and clean rocks out of my socks.
Pain instantly vanished as I started the run and I ran the fastest Ĺ marathon Iíve ever run after riding 56 miles.
<![if !vml]>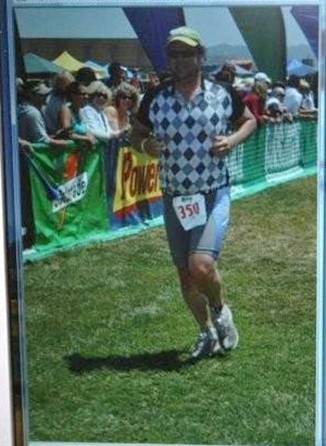 <![endif]>
The women in the background are looking at me and laughing as The announcer had just announced ďAnd thatís Dave Jones coming in, check out the argyle, argyle is never out of style! And heís sporting the Oakland Aís hat as well!
<![if !vml]>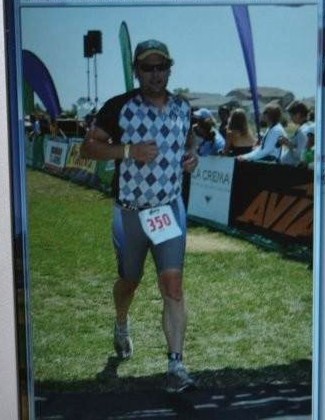 <![endif]>
Finishingís great.
<![if !vml]>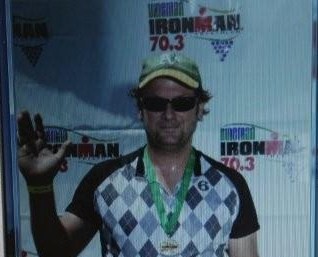 <![endif]><![if !vml]>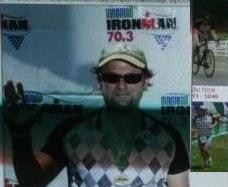 <![endif]>†Artsy?
Aftermath
We met friends at Bear republic in Healdsburg and had a great lunch and three tankers of Racer5. Mike and Steve were glad when I ordered a third so they could as well.
Afterward we went back to the relatives and that didnít end well. Due to the competitive sibling parenting and grandparent access mentioned earlier, we were forced to leave early.
However, this turned out good for me as we went by Russian River Brew company and I got to fill up my three growlers with Pliny the Elder to take home.